Gama Racing's Evan Chen and Chris van der Drift lifted the 2019 Lamborghini Super Trofeo Asia championship in a dramatic season finale at Spain's Circuito de Jerez, taking the Pro championship title ahead of season-long rivals Juuso Puhakka and Takashi Kasai of FFF Racing Team. Van der Drift, in his debut Lamborghini Super Trofeo Asia season, reeled Kasai and dived past the Japanese driver with a masterful move in the final minutes of the final race of the 2019 season.
Earlier in the day, Hojust Racing's Afiq Yazid and Toshiyuki Ochiai wrapped up the Pro-Am championship title, winning the class title in the opening race of the double-header, finishing third overall in Race 1.
T Squared Racing driver Huilin Han won the Am title after a class victory in Race 1 ensured he would close the season ahead of Thai brothers Sarun and Saravut Sereethoranakul of PSC Motorsports. In the Lamborghini Cup, 852 Challengers' Clement Li celebrated the category championship ahead of team mate Paul Wong and yh Racing Team's Takamichi Matsuda and Dai Yoshihara, who took two class victories.
The Lamborghini Super Trofeo Asia season finale came ahead of the weekend's Lamborghini Super Trofeo World Final, which sees drivers from the Asia, America and Europe series go head-to-head for the coveted Pro, Pro-Am, Am and Lamborghini Cup World Champion titles.
Race 1

Vincenzo Sospiri Racing's Yuki Nemoto started the opening race from pole position, with van der Drift alongside. Lining up on the second row were Kasai and Wells. With van der Drift having earned a point for Pro pole position, the Pro title rivals went into the race separated by just a single point.
Although the 50-minute race started under the Safety Car due to oil on the track at Turn 1, when racing got underway, Nemoto led cleanly off the start, with van der Drift, Kasai and Wells behind him. Leipert Motorsport's Brendon Leitch started from sixth on the grid but got past Lamborghini Super Trofeo Asia guest driver Emanuele Pirro to move into fifth.
Han was the early Am class leader, with Matsuda also leading Lamborghini Cup rivals Gabriele Murroni of GDL Racing and Wong.
As the pit window opened, both Kasai and Ochiai were among the first drivers to make their mandatory pit stops, with Kasai handing over to Puhakka, and Ochiai to Yazid, the Pro driver in their Pro-Am pairing. Puhakka got to work quickly as he attempted to narrow the gap to Chen, who had taken over driving duties from van der Drift. Yazid was also hard at work as he attempted to seal the Pro-Am title with a race to go.
With less than four minutes remaining, Puhakka had closed in on Chen and was three-tenths of a second behind his rival. But Chen expertly fended off the mounting pressure and took the chequred flag by 0.247 seconds to take the win and, critically, the Pro championship lead.
Race 2


Just a single point separated van der Drift and Chen from Kasai and Puhakka as the season-long battle came down to the wire Race 2 and the strategy was simple: win the race and win the championship.
Puhakka started the race from pole position, with Chen alongside. New Pro-Am champion Yazid and Au lined up on the second row, with Am champion Han and Yoshihara on the third row.
Puhakka took the lead at the start, but Chen was forced to go wide by Yazid, who moved up a place. Chen, now in third, lost critical time and by the end of the opening lap he was more than three seconds behind Puhakka. While Chen would regain the place from Yazid, the gap between Chen and Puhukka widened as the opening half of the race continued, and as the pit window opened, Puhakka had nearly a 10-second advantage.
Chen made his pit stop as soon as the pit window opened, handing over to van der Drift who immediately got to work as he hunted down Puhakka.  With both races of the Lamborghini Super Trofeo Asia season finale held together with the final races of the Lamborghini Super Trofeo North America, van der Drift had to battle plenty of traffic as he closed the gap to Puhakka, who handed over to Kasai.
With eight minutes remaining, van der Drift attempted to get past Kasai, but ran wide after making contact with Kasai. But van der Drift came back even more determined and a lap later he masterfully got past Kasai and never looked back as he sailed to the chequered flag – and the championship title – by more than six seconds.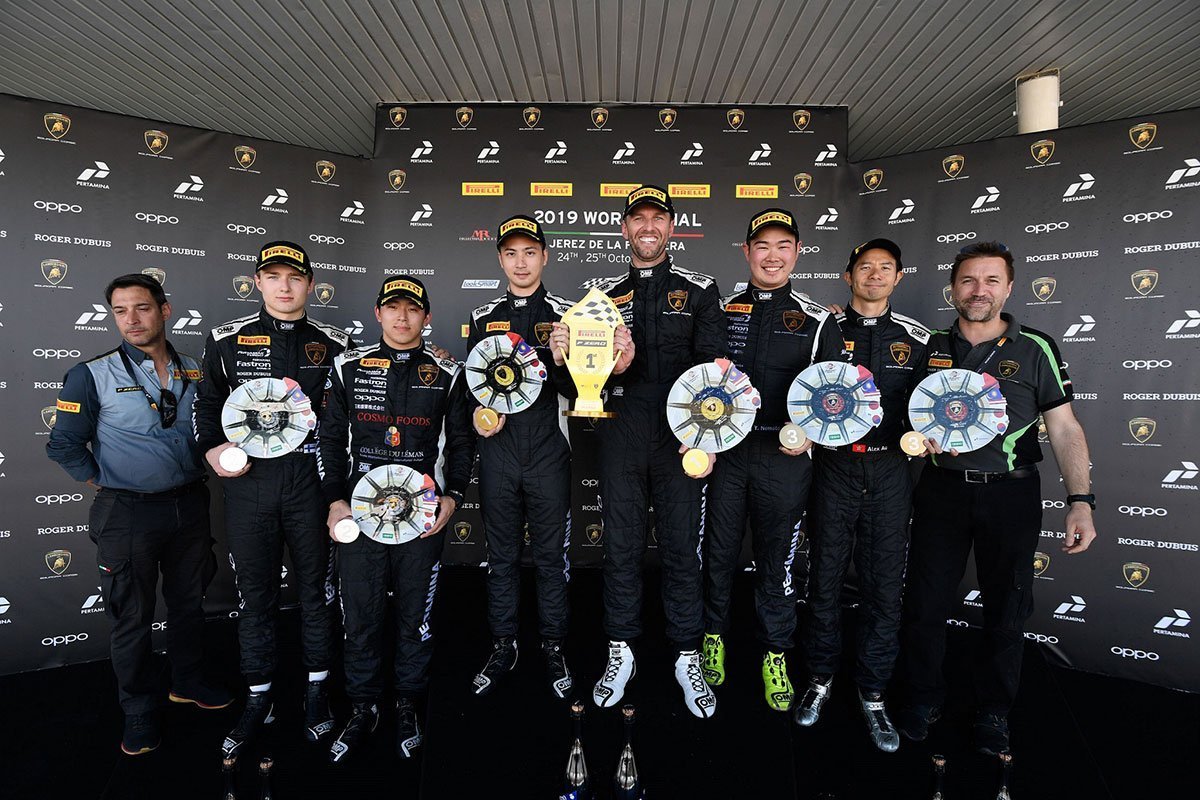 Au was third across the line and finished his Pro-Am campaign with a category win ahead of Yazid, and Leipert Motorsport's Philip Kadoorie and Dan Wells. Just out of the top five overall and sealing his Am championship title with an Am class victory was Han, while Matsuda was first in the Lamborghini Cup.
The Lamborghini Super Trofeo World Final gets underway on Saturday, with the Am and Lamborghini Cup drivers in one group and the Pro and Pro-Am drivers racing together. Following back-to-back qualifying sessions, Race 1 for the Am and Lamborghini Cup drivers takes place at 15:05 CEST, ahead of the Pro and Pro-Am Race 1 at 17:00 CEST. Sunday's Race 2 will first see the Am and Lamborghini Cup drivers race for the final time this season at 11:30 CET, before the Pro and Pro-Am drivers race at 15:00 CET.
The Lamborghini Super Trofeo World Final will be available to watch via a live stream on the official Lamborghini Squadra Corse Facebook and YouTube channels and at:
squadracorse.lamborghini.com.
Driver Quotes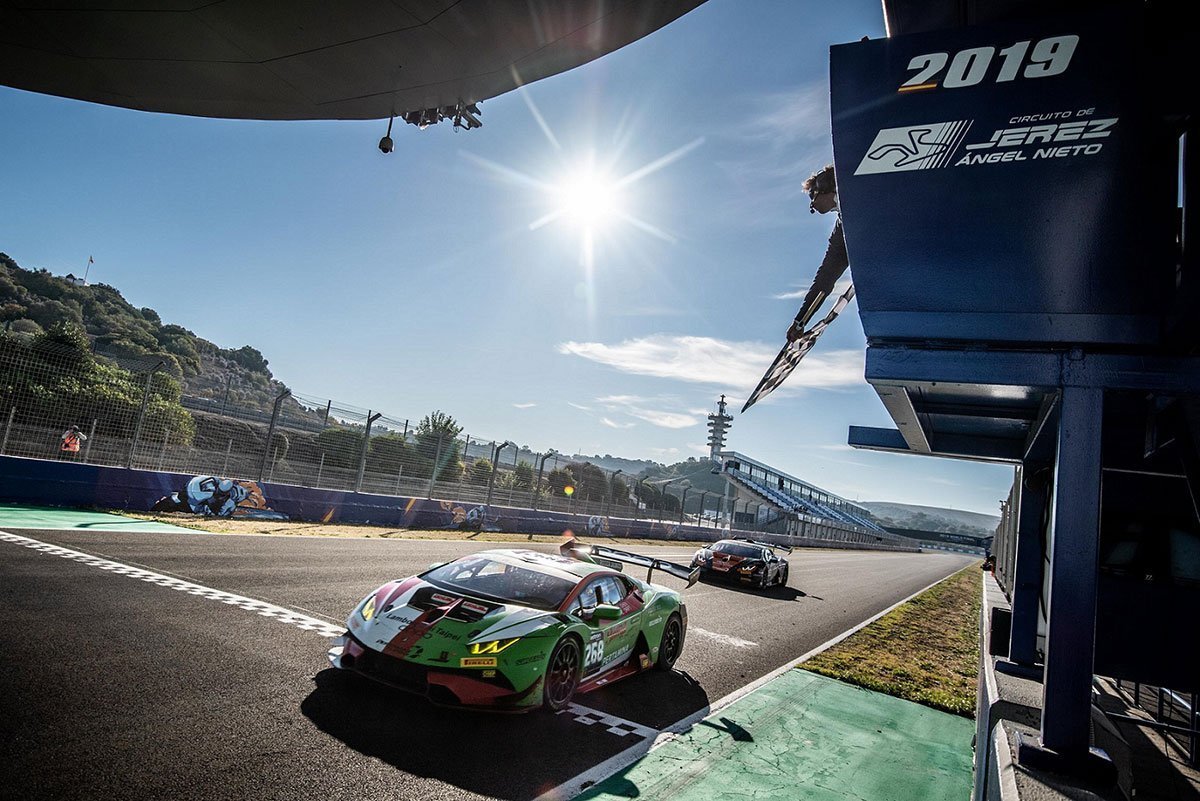 Chris van der Drift, #268, Gama Racing, Pro Champion
"The start was all about Evan staying as close as he could to Puhakka. He got pushed wide into the gravel, so it was sort of tough from there. He dropped back 10 seconds and I thought oh this is going to be very interesting. All the traffic probably makes it more interesting than anything else so I knew that I just needed to push like hell. Kasai defended me well, he pushed me off so fair play to him but I just caught him up, had a lunge at another set of cars and then that was see you later.
Thanks to Evan for asking me to come and join him this year and having a Pro line-up is really nice to. My first time really having a driver having a similar speed to me so we had some cool racing. For me the first time in the Lamborghini too so great to come and win my first year out. It hasn't been easy for us. I enjoy it and it's getting better and better, the more I drive with it."
Evan Chen, #268, Gama Racing, Pro Champion
"It was a mess at the start, I got pushed wide and then I just tried to play catch-up. Chris saved a bit of energy from Race 1, so I let the work go to Chris. Finally he got past Kasai; it was nail-biting. I was really nervous but eventually we have redemption.
"[This season] was quite similar to last year. We were down by two, but last year we weren't as lucky. So this year was like a redemption."
Afiq Yazid, #238 Hojust Racing, Pro Am Champion and Pro-Am winner, Round 6, Race 1:
"For today's race we are happy, the team is happy with the performance. We struggled a lot this week, we struggled to find the set-up, but yesterday, the last session of testing, we sat down with the team and talked a lot about the car and today we managed to improve the car. We still need to work a little bit on the car for this afternoon and for the World Final."
Alex Au, #266 Vincenzo Sospiri Racing and Pro-Am winner, Round 6, Race 2:
"The start was pretty messy. I had a clean start, but after Turn 1 the cars in front were fighting each other, there were bits on the road, so I was just avoiding things but then the two cars behind me took advantage and caught me in the first corner. I was stuck behind another car for five or six laps, and then after I got past, I built my pace. Yuki did a fantastic job, he did very clean laps. We are Pro-Am first so that's a good feeling."
Yuki Nemoto, #266 Vincenzo Sospiri Racing and Pro-Am winner, Round 6, Race 2:
"It feels great [to win]. I crashed the car in Korea and we had to miss the Shanghai round so I'm so happy to race here. The first race was not so good, but the second race was great. I'm very happy for the team."

Huilin Han, #239 T Squared Racing, Am Champion
"[Race 2] was good, no pressure because the champion was closed in the last race so I could push all the way. It was fun. It's been great, fantastic racing here this weekend. It's a great season, so far the best I've ever done – the level of competition, you can see how far or how close you are to the Pro drivers which I think is important for any driver so you can see how you can improve."
Takamichi Matsuda, #230, yh Racing Team, Round 6, Race 2 Lamborghini Cup winners:
"I knew that the car in second place behind us was quicker than us in qualifying so there was so much pressure. But I enjoyed the pressure and the feeling and to come ahead was a great feeling. It was a great partnership this season with Dai and Lamborghini gave us a great opportunity to meet each other."
Dai Yoshihara, #230, yh Racing Team, Round 6, Race 2 Lamborghini Cup winner:
"I kind of had a mistake on the start and I got a little behind so I wanted to just get the same position back. I was able to overtake 2-3 cars and then passed it to Matsuda-san and he almost had an 18-second advantage and then he just kept the gap. It was a really nice."
Lamborghini Super Trofeo Asia 2019
Results – Round 6, Race 1
1. #268/Pro/Gama Racing/Evan CHEN (TPE, CHN)/Chris VAN DER DRIFT (NZL)/50:27.782
2. #263/Pro/FFF Racing Team/Takashi KASAI (JPN)/Juuso PUHAKKA (FIN)/+0.247
3. #238/Pro-Am/HOJUST RACING/Afiq YAZID (MAS)/Toshiyuki OCHIAI (JPN)/+32.173
4. #266/Pro-Am/Vincenzo Sospiri Racing/Alex AU (HKG, CHN)/ Yuki NEMOTO (JPN)/+32.399
5. #277/Pro-Am/Leipert Motorsport/Philip KADOORIE (HKG, CHN)/Dan WELLS (HKG, CHN)/+1:11.169
6. #207/Pro-Am/Leipert Motorsport/Massimo VIGNALI (SIN)/Brendon LEITCH (NZL)/+1:11.727
7. #239/Am/T Squared Racing/Huilin HAN (CHN)/+1:18.344
8. #257/Am/PSC Motorsports / Sarun SEREETHORANAKUL (THA)/ Saravut SEREETHORANKAUL (THA)/+1:33.138
9. #269/Am/Aylezo Motorsports /Zen LOW (MAS)/ Angelo NEGRO (HKG, CHN)/+1 Lap
10. #278/Am/True Visions Motorsport/Bobby BUNCHAROEN (THA)/+1 Lap
11. #230/LC/yh Racing Team/Takamichi MATSUDA (JPN)/Dai YOSHIHARA (JPN)/+1 Lap
12. #244/LC/852 Challengers/Paul WONG (HKG, CHN)/Clement LI (HKG, CHN)/+1 Lap
13. #298/LC/Vincenzo Sospiri Racing/Kumar PRABAKARN (HKG, CHN)/+1 Lap
14. #222/Pro-Am/Automobili Lamborghini/Emanuele PIRRO (ITA)/Tony Cairoli (ITA)/+1 Lap
DNF. #288/LC/GDL RACING/Gabriele MURRONI (ITA)
DNF. #228/Pro-Am/852 Challengers/Max WISER (ITA)/Supachia Weeraborwompong (THA)
Lamborghini Super Trofeo Asia 2019
Results – Round 6, Race 2
1. #268/Pro/Gama Racing/Evan CHEN (TPE, CHN)/Chris VAN DER DRIFT (NZL)/51:13.598
2. #263/Pro/FFF Racing Team/Takashi KASAI (JPN)/Juuso PUHAKKA (FIN)/+6.321
3. #266/Pro-Am/Vincenzo Sospiri Racing/Alex AU (HKG, CHN)/ Yuki NEMOTO (JPN)/+16.261
4. #238/Pro-Am/HOJUST RACING/Afiq YAZID (MAS)/Toshiyuki OCHIAI (JPN)/+23.593
5. #277/Pro-Am/Leipert Motorsport/Philip KADOORIE (HKG, CHN)/Dan WELLS (HKG, CHN)/+56.407
6. #239/Am/T Squared Racing/Huilin HAN (CHN)/+59.015
7. #222/Pro-Am/Automobili Lamborghini/Emanuele PIRRO (ITA)/Tony Cairoli (ITA)/+1:01.871
8. #257/Am/PSC Motorsports / Sarun SEREETHORANAKUL (THA)/ Saravut SEREETHORANKAUL (THA)/+1 Lao
9. #278/Am/True Visions Motorsport/Bobby BUNCHAROEN (THA)/+1 Lap
10. #230/LC/yh Racing Team/Takamichi MATSUDA (JPN)/Dai YOSHIHARA (JPN)/+1 Lap
11. #269/Am/Aylezo Motorsports /Zen LOW (MAS)/ Angelo NEGRO (HKG, CHN)/+1 Lap
12. #244/LC/852 Challengers/Paul WONG (HKG, CHN)/Clement LI (HKG, CHN)/+2 Laps
13. #298/LC/Vincenzo Sospiri Racing/Kumar PRABAKARN (HKG, CHN)/+4 Laps
DNF. #288/LC/GDL RACING/Gabriele MURRONI (ITA)
DNF. #228/Pro-Am/852 Challengers/Max WISER (ITA)/Supachia Weeraborwompong (THA)
DNF. #207/Pro-Am/Leipert Motorsport/Massimo VIGNALI (SIN)/Brendon LEITCH (NZL)
Lamborghini Super Trofeo Asia 2019
Points Standings after Round 6, Race 2
Pro Class
1. Evan Chen 160
1. Chris van der Drift 160
2. Takashi Kasai 156
2. Juuso Puhakka 156
3. Maxime Jousse 28
3. Norman Nato 28
Pro-Am Class
1. Afiq Yazid 167
1. Toshiyuki Ochiai 167
2. Brendon Leitch 119
3. Alex Au 105
4. Yuki Nemoto 77
5. Massimo Vignali 75
6. Richard Muscat 70
6. Daniel Stutterd 70
7. Dan Wells 58
7. Philip Kadoorie 58
8. Edoardo Liberati 28
8. Jake Rattenbury 28
9. Henry Kwong 19
9. Max Wiser 19
10. Lim Keong Wee 16
11. Takamichi Matsuda 14
11. Kei Cozzolino 14
12. Supachai Weeraborwornpong 0
Am Class
1. Huilin Han 154
2. Sarun Sereethoranakul 129
2. Saravut Sereethoranakul 129
3. Zen Low 97
4. Bobby Buncharoen 85
5. Angelo Negro 69
6. Jun Tashiro 51
6. Satoshi Furuta 51
7. Steven Lin 49
8. Doyun Hwang 28
8. Andrew Haryanto 15
9. Kenneth Lau 12
9. Michael Choi 12
Lamborghini Cup
1. Clement Li 144
2. Takamichi Matsuda 137
2. Daijiro Yoshihara 137
3. Paul Wong 137
5. Kumar Prabakaran 89
5. Gabriele Murroni 84
6. Kenneth Lau 27
7. Vincent Wong 23
7. Sui Lung Gary Cheung 23
8. Sam Fillmore 20
8. Tony Brian Walls 20
8. Henry Kwong 20
8. Michael Soong 20
9. Mak Hing Tak 16
9. Alex Liu 16
10. Michael Choi 13
11. Samson Chan 12
12. Clerebold Chan 7
13. Siu Yuk Lung 6
Lamborghini Super Trofeo Asia
2019 Calendar

Sepang (MAL) 6/7 April
Suzuka (JPN) 22/23 June
Fuji (JPN) 6/7 July
Yeongam (KOR) 3/4 August
Shanghai (CHN) 7/8 September
Jerez (ESP) 24/27 October
World Final
Jerez (ESP) 24/27 October
2020 Calendar
Sepang (MAL) 27-29 March
Fuji (JPN) 22-24 May
Suzuka (JPN) 19-21 June
TBA TBA
Shanghai (CHN) 11-13 September
Misano Adriatico (ITA) 29-30 October
World Final 2020
Misano Adriatico (ITA) 31 October – November 1