Arden Green – evokes past glories of Racing Green for a modern look steeped in history
Traditional leather trim in Oxford Tan – highlight the craftsmanship for 108 years
Features Sport Exhaust Upgrade – acoustic exhaust note enhancement
Features 22 Inch Ribbon – Satin Black and Bronze Diamond Turn
24th September 2021, Kuala Lumpur: Aston Martin Kuala Lumpur introduces the customized hand built unit – Aston Martin DBX in Arden Green. This customized specification is inspired from the celebration of Aston Martin's glorious racing heritage.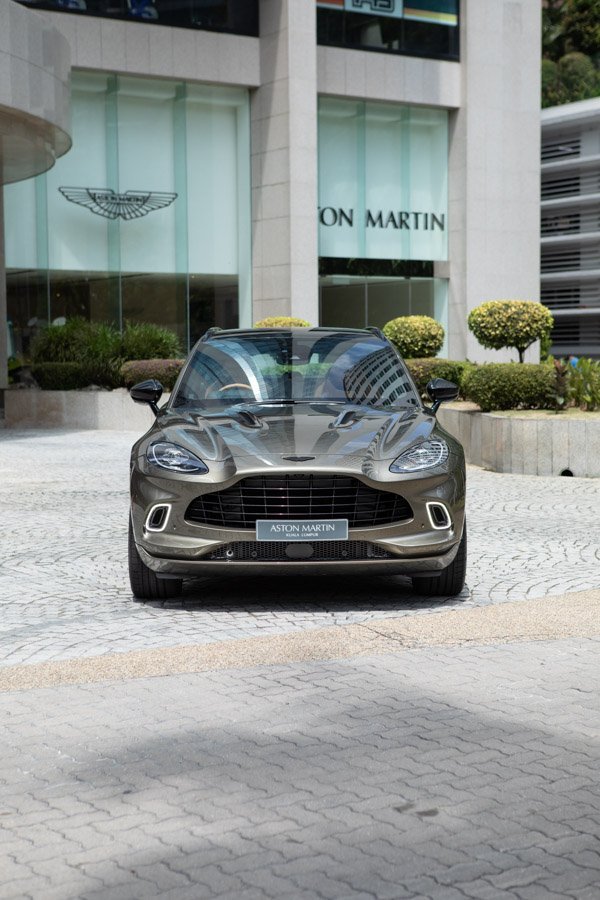 Green has always been a signature and incredible colour for Aston Martin, most famously in 1959 with the DBR1 winning at Le Mans in green. Green is the British national racing colour and symbolises the classic, Britishness and heritage of Aston Martin. Consequently, we chose "Arden Green", a subtler hue with a grey-green hint that has strong associations to Aston Martin's classic and racing history. By combining the elegant shade of Arden Green with the traditional Tan interior, we would like to emphasise the element of craftsmanship and a celebration that Aston Martin has been in handcrafted cars for 108 years.
Other than the colour and craftsmanship, Aston Martin is renowned for sophisticated sound quality. Aston Martin is world renowned for the unique audio quality of its powertrains, a truly British sound. Part of the brand DNA of Aston Martin, DBX's exhaust has been carefully tuned to deliver the unique Aston Martin sound. This removes unwanted volume and bark, but delivers a linearly building crescendo of a sound. Even the body of DBX has been engineered with powertrain sound quality in mind to provide rigid yet acoustically channelled pathways for the most engaging drive. During steady state driving, the powertrain is quiet and discrete to maintain comfort; but will easily show the Aston Martin spirit expected when the customer wishes to hear the exhaust note.
DBX's powertrain sound has been developed to be refined in GT mode providing long-distance comfort and a relaxed exhaust tone. However, when drive modes are changed, or if the driver prompts performance driving, the exhaust system will deliver a multi-dimensional character. By opening the active exhaust values, the exhaust system can change character from a charming, characterful note to a full-bodied, assertive beast during dynamic driving.
To align with the racing heritage, DBX Arden Green includes a sport exhaust acoustic upgrade to provide acoustic exhaust note enhancement. By re-profiling the exhaust gas routing, DBX Arden Green will offer a deeper, more aggressive exhaust note with a sound level increase when compared to the standard exhaust acoustic profile. This is available at engine start up and throughout the power range.
To further enhance the sporty characteristics, DBX Arden Green features dark elements in exterior and interior. For example, smoked taillight, gloss black exterior pack, dark satin chrome jewellery pack, and obsidian black leather for upper interior.
Nevertheless, convenience is an important element for an SUV. DBX is no different. It includes Convenience pack which features power tailgate with gesture control, park assist, and touchpad control. Power tailgate with gesture control enables opening or closing of the tailgate with a simple, effortless swipe of the foot under the rear bumper, aiding loading when hands are full, such as when carrying items, carrying children or holding pets. Park Assist allows DBX to detect and self- park in parking spaces automatically in parallel, perpendicular and parallel park exit scenarios. Touchpad control provides touch / gesture control of the infotainment system. This includes; Pinch Zoom, Swipe, Direct text input (Romanic and Oriental), finger gesture input and 'push to enter' commands. This provides DBX with a touch control system interface without the need to stretch to the main centre infotainment display.
Aston Martin DBX is available from the base price of RM 818,000.00, while Aston Martin DBX Arden Green priced from RM 1,072,000.00 (both price stated excluding duties and taxes). For more information about the Aston Martin DBX in Arden Green, please call +60 3 2163 1196 or email to astonmartinkl.enquiries@wearnes.com