The new UltraContact UC7 available in Malaysia starting Q3 2022
On-road tyre designed for a wide range of passenger cars and MPVs
Advanced Generation 7 tyre offers all-round performance with emphasis on safety, noise comfort, and long drive life
Kuala Lumpur, 1 SEPTEMBER 2022 – With the introduction of the UltraContact UC7, Continental Tyres launches the first of its Generation 7 products in Malaysia. The UltraContact UC7 is an all-round tyre that prioritizes safety, with an emphasis on exceptional noise comfort and long drive life. With this tyre, Continental redefines the driving experience, bringing driving confidence to the next level with its latest leading technology – "Driving Confidence, Redefined by Technology".
With the tremendous success of its Generation 6 products, Continental has been driven to develop product upgrades that further meet not only the current but also the foreseeable requirements from the market. "The specific needs and driving habits of consumers are constantly evolving, and Continental Tyres is committed to bringing continuous innovations that meet those changing needs. We invest heavily in the development of every single product we bring to market, and the resulting UltraContact UC7 truly represents a next-generation upgrade," states Dalibor Kalina, Head of BA Replacement Tires Asia Pacific. 
In comparison to the reputable UltraContact UC6, the UltraContact UC7 achieves significant and outstanding improvements in braking and control on wet ground. Other performance aspects such as fuel efficiency, dry braking, and handling are also enhanced.
To offer the best driving experience to consumers, Continental has developed flagship technologies focusing on the unique consumer requirements for each segment. Specially tailored for the all-round segment, Confidence+ Technology combines the best of our compound technology and construction design features to create the ultimate tyre that does not compromise on any aspect of safety, comfort, handling, or mileage – giving drivers the confidence to conquer the road in their everyday journeys, and to reach their destinations safely and effortlessly.
With on-road safety as our greatest priority, Continental puts every tyre product going to market through test after test to ensure that its performance across all aspects meets our highest requirements. "We take pride in our safety technologies that have been highly recognised for generations. With Vision Zero as our top priority, we strive to achieve zero accidents, zero injuries, and zero fatalities on the road," said Andrea Somorova, Managing Director of Continental Tyre Malaysia. 
To realise the UltraContact UC7, a worldwide team of around 25 engineers and material experts spent more than 9,500 hours designing, simulating, building, and testing all the prototypes with the target consumer in focus.
During the development phase alone, Continental engineers conducted more than 850 tests under various conditions, with a combined distance that could circle the earth 12 times. As Bob Liu, Director of R&D Asia Pacific asserts, "We have put this tyre through rigorous rounds of testing to ensure we meet our own exacting standards and can deliver cutting-edge tyre technology to consumers. We will continue to do so as we further expand the portfolio to establish powerful, competitive offerings for the market." 
With this intensive research and development program, the UltraContact UC7's Confidence+ Technology truly embodies "German Technology without Compromise". Featuring "Diamond DNA", – Diamond Compound, Noise Breaker 3.0 and Aqua Channel Advanced, the new UltraContact UC7 delivers three key advantages: outstanding wet performance, noise reduction, and long drive life.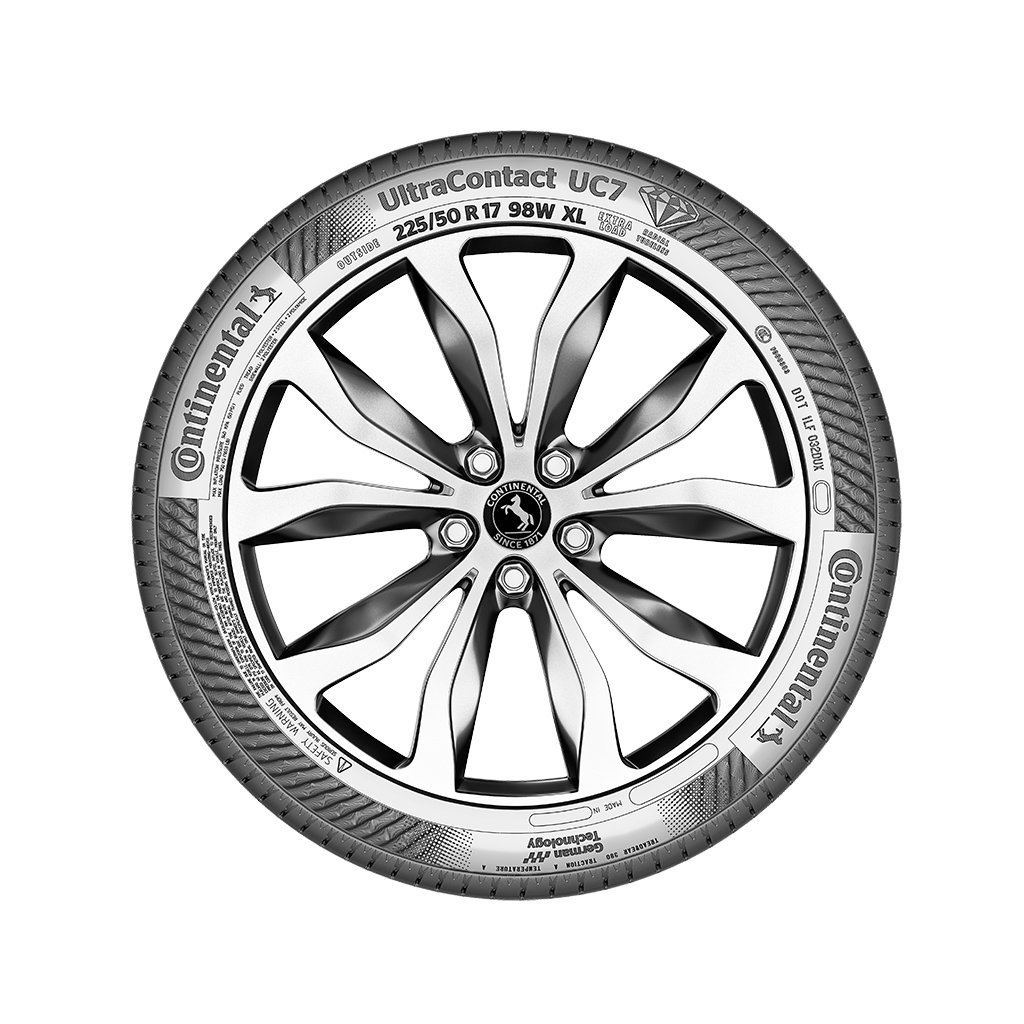 The UltraContact UC7's outstanding wet performance comes from shorter braking distance and outstanding grip on wet slippery roads, thanks to the Aqua Channel Advanced surface sipes on the center part of the pattern which efficiently evacuate water to reduce the risk of hydroplaning. Simultaneously, the innovative Noise Breaker 3.0 design with Flow X-celerator leverages the Venturi Effect principle to accelerate water flow through the groove, improving surface contact between rubber and road. Thirdly, the UltraContact UC7's Diamond Compound formulation enhances the transformation of kinetic energy into heat at optimum levels, resulting in shorter braking distances even on wet roads.
The second advantage of the UltraContact UC7 is a quieter and more harmonic drive as a result of reduced noise levels and smooth vibrational frequency. As sound waves travel through the grooves, the Noise Breaker 3.0 interrupts the waves by disrupting the homogeneity of the grooves. The sound waves are broken up and dissipated into smaller waves, preventing noise from building up and traveling into the cabin of the car. The Diamond Compound with whisper touch also contributes to reduced noise generation by absorbing impact from the road.
The third advantage is long drive life. The Diamond Compound's optimised polymer network provides wear resistance for long-lasting tread life, ensuring complete peace of mind throughout the usable life of the tyre.
The UltraContact UC7 is created for a wide range of vehicles, available from 15" – 18" tyre size fitments. Drivers looking for ensured quality in every aspect of their driving experience can select UltraContact UC7 for their compact and mid-size cars, MPVs, and luxury sedans.