Long-Awaited Reunions Made Even More Special With TREVO Cars
After two years of spending Chinese New Year under the MCO, celebrations to welcome the Year of the Tiger will surely be more meaningful than ever – unlike any you've experienced. Families that have been long separated will finally get to celebrate together in person after having to make do with long-distance celebrations. With the announcement of a more relaxed SOP for Chinese New Year this year where family reunion dinners and house-to-house visits are permitted by the government, TREVO is here to help you enjoy road-tripping during this festive season, even as you embrace a lifestyle without car ownership.
Pick the Right Car with Advice from the Most Keng Feng Shui Master
Whether it's to lift your reunions or drive you on, TREVO has the widest variety of car models that you can book, rent and drive to unleash your inner tiger throughout 2022. Let our Most Keng Feng Shui Master reveal to you TREVO's most awesome cars to lift your life. Whether you want a drive full of power and prosperity, cars to showcase your status, drives that fulfil your need for speed, or spacious cruisers to fit your whole family – with TREVO, you can lift your reunions and go further in the Year of the Tiger! Whatever qualities you are looking for in your ideal car rental, you can find it on Malaysia's Largest Car-Rental Marketplace!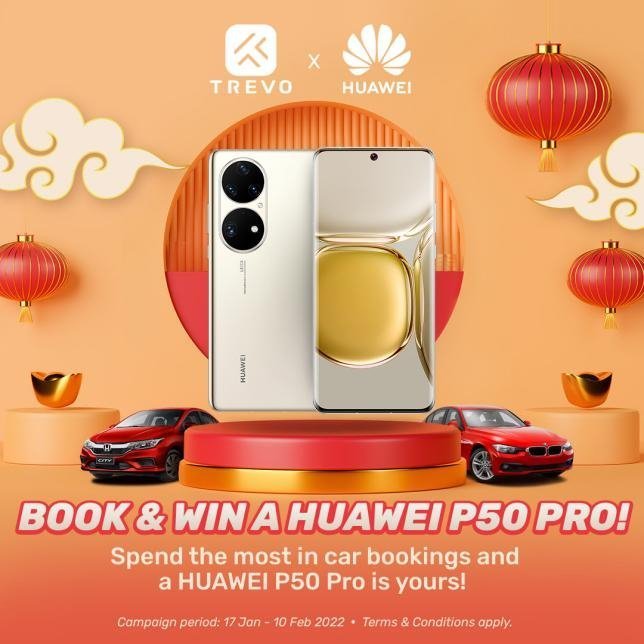 TREVO, Malaysia's leading people-to-people (P2P) car rental marketplace, is ready to serve the needs of any driver – not just those with the tiger zodiac, with a selection of the newest, most reliable cars, plus festive rewards for your TREVO bookings to get your celebration off to a roaring start. From 4WD vehicles to MPVs seating up to 12, to compact hatchbacks, classy sedans and super cars, there is a vehicle for everyone. TREVO also offers car owners the opportunity to earn extra income by listing their cars for rental on the platform, a welcome advantage to offset festive expenses. 
Lift Your Reunions With These Promos Today!
Kick off your Chinese New Year spirit with TREVO's promotion running from 17 January to 10 February 2022, offering attractive discounts for your booking. 
Use the promo code REUNION38 to get 38% OFF your booking (capped at RM188), with a minimum booking value of RM388.
Use the promo code 88REUNION to get RM88 OFF your booking (capped at RM88), with a minimum booking value of RM288.
TREVO and Huawei Giveaway 
Embrace your luck and drive far and often with TREVO during the Year of the Tiger! Achieve the highest amount in your combined TREVO bookings from 17 January to 10 February 2022 to be eligible to win a brand new Huawei P50 Pro, to help you photograph all your CNY OOTDs and selfies.
Huawei users will no longer have to miss out on TREVO exciting promos and goodies as the TREVO app is now available on the HUAWEI AppGallery, offering access to over 150 cars types and more than 5000 cars comprising in Klang Valley, Penang, Ipoh, Johor Bahru and Kota Kinabalu.
Terms and conditions
1. This giveaway is open to all TREVO members. Participants must make a minimum of 1 booking(s) within the period to be eligible. Bookings that are rejected or cancelled are not eligible for participation in the giveaway.
2. Follow @trevo.my on Instagram and TREVO Malaysia on Facebook.
3. The winner will be selected based on the cumulative amount spent during the contest period.
4. Contest period: 17 January – 10 February 2022
Download the TREVO app on the Huawei AppGallery, Google Play Store or Apple App Store and follow TREVO's Facebook page and TREVO's Instagram page for the latest promotions and deals.