Premium automaker continues to demonstrate its ongoing commitment to shape the Malaysian automotive industry with Electro-Mobility.
Kuala Lumpur, 12th June 2019 – BMW Group Malaysia unveiled the new Reserve + Shell Recharge Bays at Sunway Pyramid today, in partnership with ParkEasy, Shell Malaysia and Sunway Group.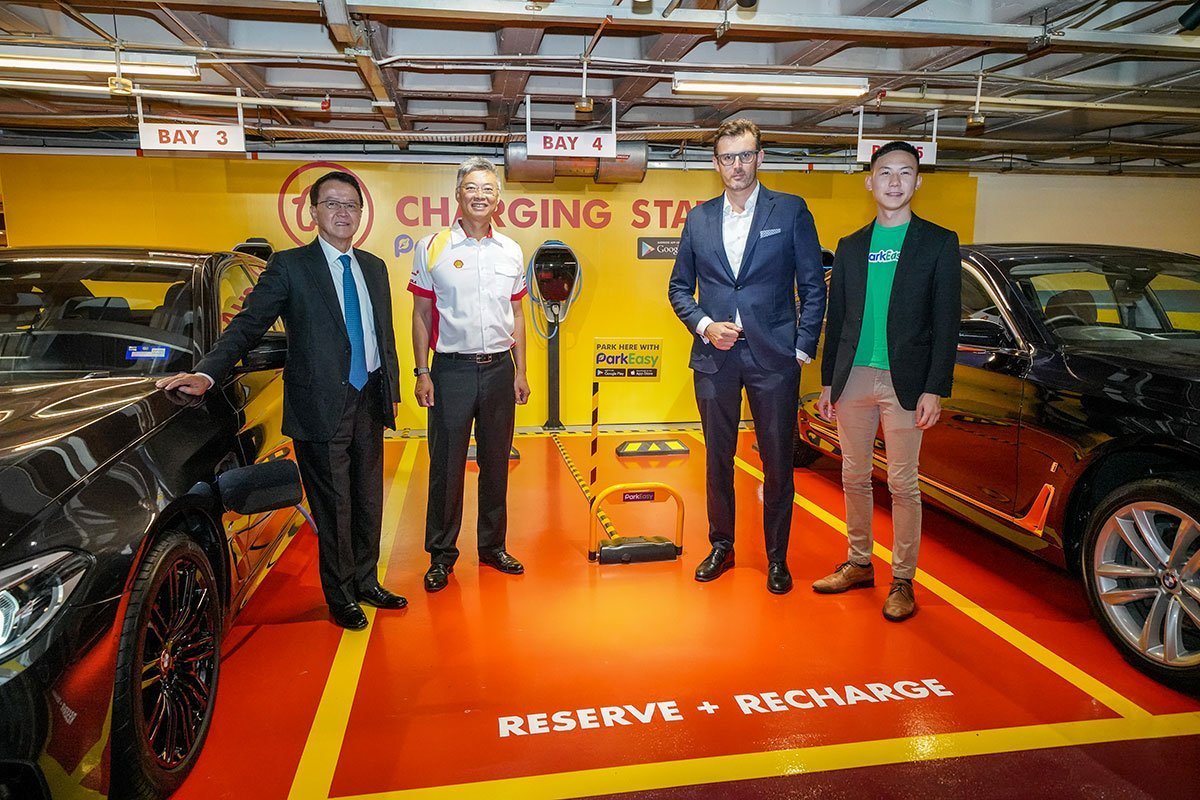 Speaking at the launching ceremony, Tan Sri Dr. Jeffrey Cheah, Founder and Chairman of Sunway Group said, "Sustainability is not an abstract concept to us. The Sunway Group itself was founded on the concept of sustainable development. This area where we are gathered today was once a barren land of disused and abandoned mining pools. Sunway rehabilitated the land, restored the ecosystem and developed Malaysia's first integrated green township. The late Mr Lee Kuan Yew, Singapore's founding father, described it as "transforming a wasteland into a wonderland" when he visited us. Sunway City Kuala Lumpur is now home to a vibrant community of more than 200,000 people living, working, playing, and studying in a safe, healthy and connected environment; and we are not finished yet. We plan to integrate technology even more deeply to establish Sunway City Kuala Lumpur as a model "smart sustainable city" of the 21st century. Today's initiative marks another step in this direction."
Mr. Harald Hoelzl, Managing Director of BMW Group Malaysia, meanwhile, said, "Globally, Malaysia is amongst the world's most progressive countries in driving the Story of Visionary Mobility further for the BMW Group. This signifies not only a strong demand for electro-mobility in the country but the need for its long-term sustainability. To facilitate this vision, BMW Group Malaysia will continue to expand the accessibility of charging facilities to electrified vehicle drivers nationwide."
Hoelzl added that with over 20 BMW i Charging Facilities across Malaysia, BMW Group Malaysia looks forward to growing the numbers with ParkEasy and Shell Malaysia to further pave the way for the Mobility of the Future in the country with the new Reserve + Shell Recharge Bays, and  hope to see more of such initiatives in the future.
The launch of the new Reserve + Shell Recharge Bays forms part of BMW Group Malaysia's ongoing efforts to drive e-mobility forward in Malaysia. The convenience and availability of these facilities are vital in fostering the shift among Malaysians towards Visionary Mobility. The 10 charging bays will span across three major Sunway Group properties with five bays available in Sunway Pyramid, three in Sunway Pinnacle, and two in Sunway Velocity. With the support from Shell Malaysia, ParkEasy is expanding and looking for other progressive shopping malls to offer such facilities.
Datuk Iain Lo, Chairman of Shell Malaysia said,  "As Shell ventures on touchpoints beyond our Retail stations and into premium establishments, our main focus is to enhance our customers' journey and offer an end-to-end solution for convenience. The collaboration with ParkEasy, in partnership with BMW Group Malaysia and the Sunway Group, gives us the opportunity to continue serving our customers with new technological ways to enhance their experience with us."
Starting July, owners of BMW Plug-In Hybrid Electric Vehicles (PHEV) will be entitled to exclusive BMW Privileges at the Reserve + Shell Recharge Bays*. They include an e-starter pack for new BMW PHEV owners and an e-gift card to existing BMW PHEV owners for the use of the facilities at the Sunway Group properties. Now, they can enjoy the BMWMY promo code to redeem five ParkEasy credits for use at the Reserve + Shell Recharge Bays. The promo code is available from today to 31st July 2019, and is limited to 2,000 users.
Mr. Warren Chan, CEO of ParkEasy said, "We developed ParkEasy as means of increasing parking efficiency and reduce the time spent looking around for a parking spot. When the opportunity to collaborate surfaced with Shell Malaysia, who then partnered us with BMW Group Malaysia and Sunway Group, we took the chance knowing full well that ParkEasy can successfully facilitate and enhance the charging behaviours of PHEV drivers in Malaysia with our parking reservation service. Working together with Shell Malaysia who initiated this idea, is one of our first steps towards more innovations yet to come."
The ParkEasy platform is a mobile application that will allow electric vehicle (EV) or PHEV users to reserve a spot at the Reserve + Shell Recharge Bays up to 60 minutes ahead, assuring drivers of parking and charging availability. Powered by BMW i Charging facilities, users will receive complimentary recharging to replenish their vehicles' batteries, as the credits in their ParkEasy mobile application will only be deducted for the reservation and hourly use of the parking bays. This cashless transaction also intends to cultivate ethical charging behaviour among the EV and PHEV users.
BMW Group Malaysia's portfolio of Visionary Mobility is also supported by the ChargEV platform through its partnership with the Malaysian Green Technology Corporation. The BMW ChargeNow service, which is offered as part of the BMW 360° ELECTRIC programme, also grants straightforward access to partner charging facilities like ChargEV, where customers can enjoy 24/7 support and access to all charging locations in ChargEV's growing network nationwide.
* Terms and Conditions Apply.